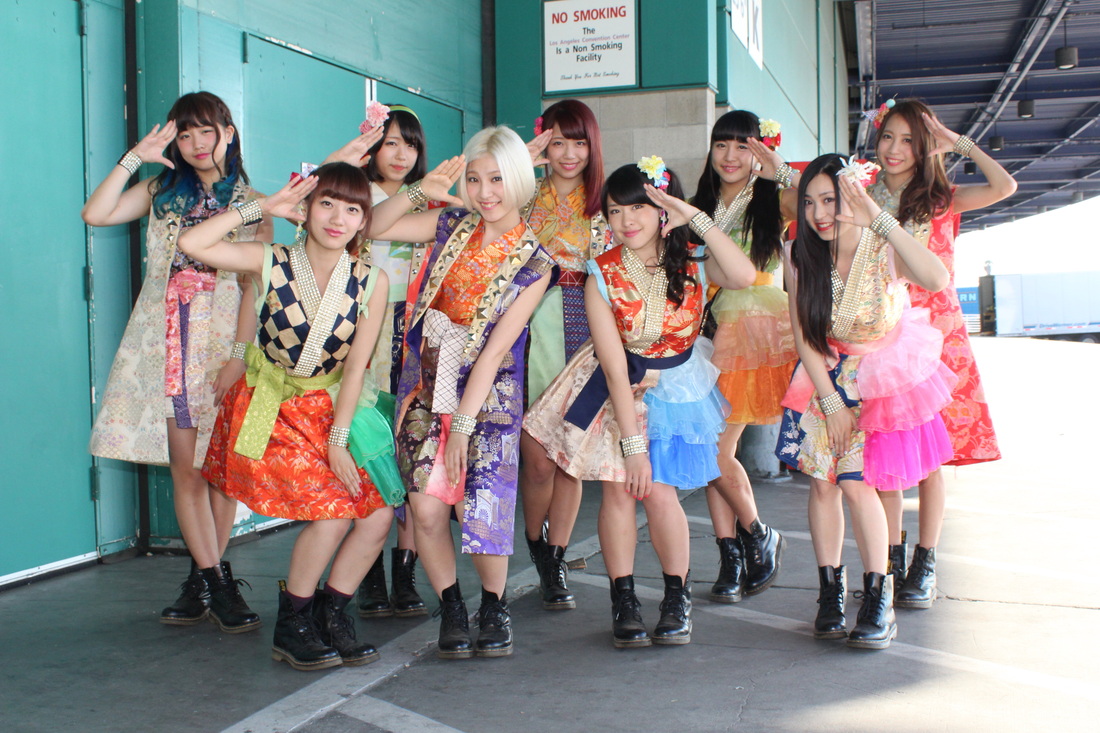 Recently A-To-J Connections was lucky enough to stop by Japan Expo LA and interview Cheeky Parade who performed both days of the Expo and at the pre-party in Hollywood.

Cheeky Parade is an idol group formed in 2012 under the iDOL Street label on avex. They were the second group to debut on this label (Following SUPER GIRLS) and recently made headlines as the first Japanese group ever to perform at the CBGB Music & Film Festival in New York. Their style of up-beat idol music matched with unparalleled energy has earned them fans all over the world and they have become one of the most rapidly rising idol groups in Japan.

A-To-J: Please introduce yourself!
Cheeky Parade: We are Cheeky Parade!
Yuna: My name is Yuna Sekine, nice to meet you!
Mariya: My name is Suzuki Mariya, nice to meet you!
Marin: My name is Marin Yamamoto, nice to meet you!
Yuriya: My name is Yuriya Suzuki, nice to meet you!
Asami: My name is Asami Watanabe, nice to meet you!
Hina: My name is Hina Nagai, nice to meet you!
Seran: My name is Seran Mizorogi, nice to meet you!
Rino: My name is Rino Shimazaki, nice to meet you!
Momoka: My name is Momoka Kodakari, nice to meet you!

A-To-J: Thank you for your time! How are you enjoying your time in the US?
Yuna: Sekine Yuna, the leader here! Its our 3rd day in Los Angeles today and we've been doing lives yesterday and the day before, but we were able to go to places like Hollywood before the lives and were able to enjoy sightseeing. We got to go to tourist attractions that are recommended so we've been spending every day to the fullest.

A-To-J: That sounds like fun! How was it like performing in front of your US fans?
Yuriya: I'm Suzuki Yuriya! Since we cannot communicate by words with the fans, we needed to use expressions or performances as communication so we concentrated more and thought of some English phrases to hype up the crowd as well.

A-To-J: I'm sure that the US fans can feel what your communicating easily enough judging by their reactions at your performances. Have you had time to visit anywhere interesting while you've been here?
Rino: Shimazaki Rino here! Today we went to Hollywood, the Chinese Theater, and the Hollywood Sign. We got to all stand in front of the Hollywood Sign and take a photo. We're going to cherish the photo!
Yuna: We want to be successful in Hollywood too!
Yuriya: Where all the famous people's hand prints were, there was an open spot so we all put our hands there and said we want our hand prints to be there someday!

A-To-J: Hopefully one day we can see Cheeky Parade's hand prints amongst the greats of Hollywood! Can you tell us something about how did you prepare for this live?
Mariya: Suzuki Mariya here! Since this live wasn't in Japan, we wanted to be able to speak English. The leader and everyone practiced a lot of English to be able to hype up the crowd.
Yuriya: These outfits are actually not what we have been promoting with recently since we've been wearing our outfits from our latest single. However, we wanted to promote Japanese culture so we came with Japanese Kimono-like outfits instead. Each person has things like embroidery and famous Japanese art on the back so I hope they pay attention to that too.

A-To-J: Moving to your recent live, where there any songs last night that you especially enjoyed performing live?
Cheeky Parade: Hmm.. I wonder which song…
Hina: From yesterday's live, there was a song called "Colorful Starlight" at the end where the audience danced with us during the chorus.
(Everyone in Cheeky Parade starts doing hand gestures of the dance)
Hina: It's a upbeat song so it got really hype!
A-To-J: What kind of challenges do you experience performing overseas?
Asami: Watanabe Asami here! The language barrier was the biggest challenge so we wondered how we can communicate. We thought facial expressions were best so when the lyrics were cheeky, we made very cheeky faces and when the lyrics were cute, we showed cute smiles. We wanted to express the image of the songs as much as possible so we cared about our expressions the most.

A-To-J: That's a lot to think about while performing, but I'm sure your fans take note of all those little touches. Well, you've been to the US, where would you like your next overseas live to be?
Cheeky Parade: Oh~!! (everyone starts whispering to each other)
Seran: *raises hand* Australia!!
Cheeky Parade: Yeah!! We'll dance with the kangaroos!
Seran: Australia is right below Japan right?? Its also similar since Australia is also an island! I've gone to Austraila before and it's a great place so I would love to go with the members as well.

A-To-J: I'm sure those in Australia would love to have you! As a group, what are some of your musical inspirations?
Mariya: There's someone I really respect and that's Michael Jackson! We, Cheeky Parade, are aiming for number one in the universe and in my mind, Michael Jackson is the current number one of the universe so I want to try our best to go past Michael Jackson!

A-To-J: Along that same line up thought, is there any music artist you want to collaborate with?
Rino: As Cheeky Parade I want to collaborate with Aerosmith! I think Aerosmith's performance is aggressive and cool so if we can collaborate that kind of performance and our "cheeky" performance together, that would be great.

A-To-J: That would be a really interesting combination that I'm sure everyone would want to hear! Also, I noticed that Solidemo was cheering you on at the live yesterday, are you friends?
Yuriya: Since we're in the same company, we are friendly with each other. We even saw them today a couple of times while we were sightseeing.

A-To-J: What are you plans after this overseas performance?
Yuna: In Japan, from November we are having periodic lives. For each one of these lives, we're basing the theme on movie titles so we want to successfully perform those lives. As for plans after that for Cheeky Parade, as we gained more fans around the world, we want to now perform in more places overseas. Of course we want to be successful in Japan but we also want to become a group that would be successful overseas as well. Therefore we want to grow as a group and become a bigger, more popular group!

A-To-J: We at A-To-J Connections hope so too! Thank you for your time!
Cheeky Parade: Thank you!

The above interview was conducted by Manuel Figueroa and Eunice Wang with post translation by Tiffany Fujii.

M.O.N.ST@R PV -DOWN THE ROAD Ver-

「カラフルスターライト」 Colorful Starlight