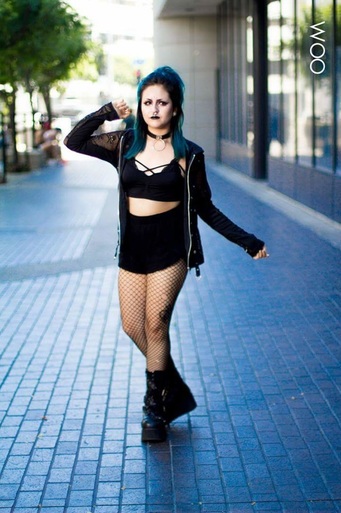 Hi! My name's Kaz and these are some random facts about me, yay!
I'm a huge fan of visual kei and all things alternative. I was introduced to Marilyn Manson eight years ago and have been in love with alternative culture since. Cinema Bizarre was the first visual style band I ever discovered and since then have grown to love the overall subculture. The first band I fell in love with was MEJIBRAY and I've been obsessed ever since. I model, dance, and I am also an aspiring makeup artist.
Sometimes I cosplay, but I like to add my own touch to the character.
I'm greatly inspired by Mana-sama, Marilyn Manson, Morgue, Junnyan, and Club Kids (weird combo, I know). My clothes are usually from Halloween stores and I love to go on night adventures. I've been in Cure Magazine a couple of times and have modeled for Ghost of Harlem. Total Freud fanatic, also currently making the effort to learn Japanese. Deeply obsessed with dogs. Hm, guess that's most of it! If ya'll ever see me please feel free to say hello!
Instagram: @cinnadaddy_
E-mail: kaz@a-to-jconnections.com